B Interactive
How B Interactive saw conversion rate increases from 1.13% to 1.9% and AOV go from $115 to $140.
What is B Interactive?
B Interactive was founded in 2017 with the goal of delivering world-class digital marketing services to innovative ecommerce brands
They are a performance marketing agency providing a wide range of services ranging from paid advertising, copywriting, conversion rate optimization, and email marketing, to creative production. B Interactive acts as an outsourced marketing partner for ecommerce brands. They take care of all paid advertising online and provide other services.
B Interactive's clients are ecommerce business owners within the health and beauty industry who are looking for a reliable marketing partner to help them increase revenue and take their business to the next level.
Tomasz Babiec Founder & Director of Strategy (left) founded B Interactive and has generated over $20 million dollars in sales for ecommerce brands and online courses.
The Challenge
B Interactive is a performance marketing agency that is always looking for new ways to increase revenue per visitor or lower traffic costs. They were facing very low conversion rates and low average order values. They needed a visual user behavior tool, as just looking at analytics wasn't giving them insights into the full picture of what was happening on their website.
They looked to Clarity as a way to diagnose and solve these problems. Let's find out how it went!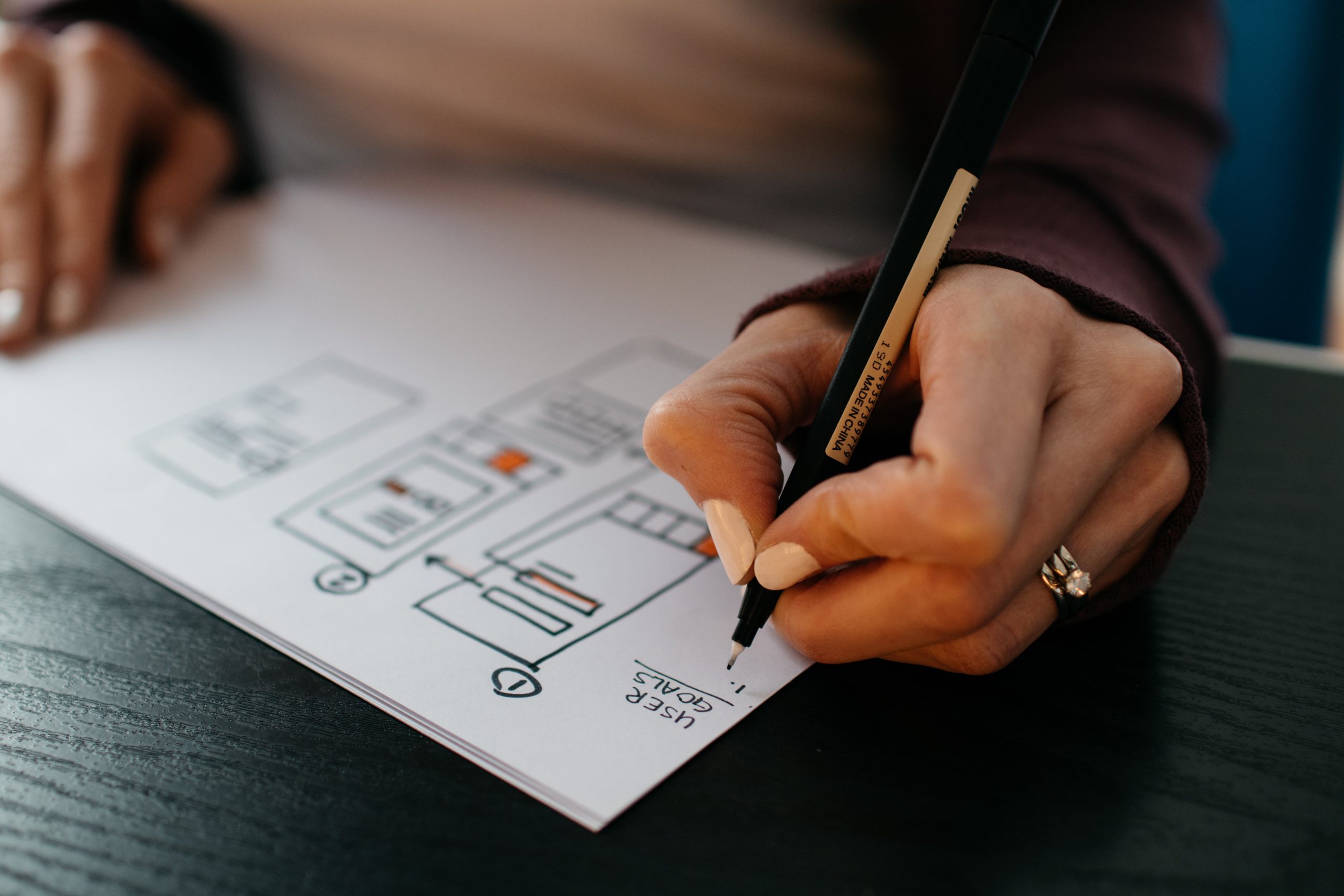 The Problem
When B Interactive started working with a natural supplements brand, the brand's biggest problem was very low conversion from paid traffic. They weren't using any visual user behavior tools.
To understand how users were interacting with their landing pages, they needed to see what was going on and why users weren't converting.
The Solution
To understand and solve these conversion problems for their client, B Interactive utilized Microsoft Clarity to gain insights.
Clarity enabled B Interactive to see beyond the numbers in data analytics. They were able to see exactly what happened the second someone visited a landing page. They knew where someone clicked, what they read, what they skipped, where they dropped off, and what the friction points were.
With that knowledge, they were able to deploy highly targeted A/B tests and quickly test hypotheses.
Learnings
There were some key learnings and takeaways for B Interactive after they incorporated Clarity into the mix.
Clarity's integration with Google Analytics and the advanced filtering features it offers were incredibly useful to B interactive. They were able to filter data to specific users, quickly troubleshoot issues and get a deeper understand user behavior. Clarity enabled them to find many different CSS bugs on their landing pages which they weren't aware of.
After 6 months of continuous A/B testing and analyzing user behavior, they were able to:
Increase the conversion rate from 1.13% to 1.9% (a 168% increase)
While also increasing the average order value from $115 to $140 (a 21.7% increase).
Clarity's scroll maps and recording features were incredibly useful for B Interactive. Scroll maps let them quickly see where the drop-off points were on any landing pages, and recordings allowed them to understand why users were dropping off. This information allowed them to run specific A/B tests to improve conversion.
B Interactive made several changes to their website due to the insights they received from Clarity. They completely redesigned the Shopify product page for the flagship product. It turned out that the page still didn't convert well enough for paid traffic, so they built an entirely new landing page on a funnel-building software called Funnelish.

The main things they did on the Shopify product page were:
Rewriting the product description to focus more on the unique ingredients used in the product and referencing scientific studies that show their effectiveness.
Highlighting social proof such as customer testimonials and reviews.
Added bundles (multiple units of the products structured in a way that the more the customer purchases, the more they save).
Highlighting risk-reversal (money-back guarantee).
Adding lots of different icons to replace text and make the page easier to read.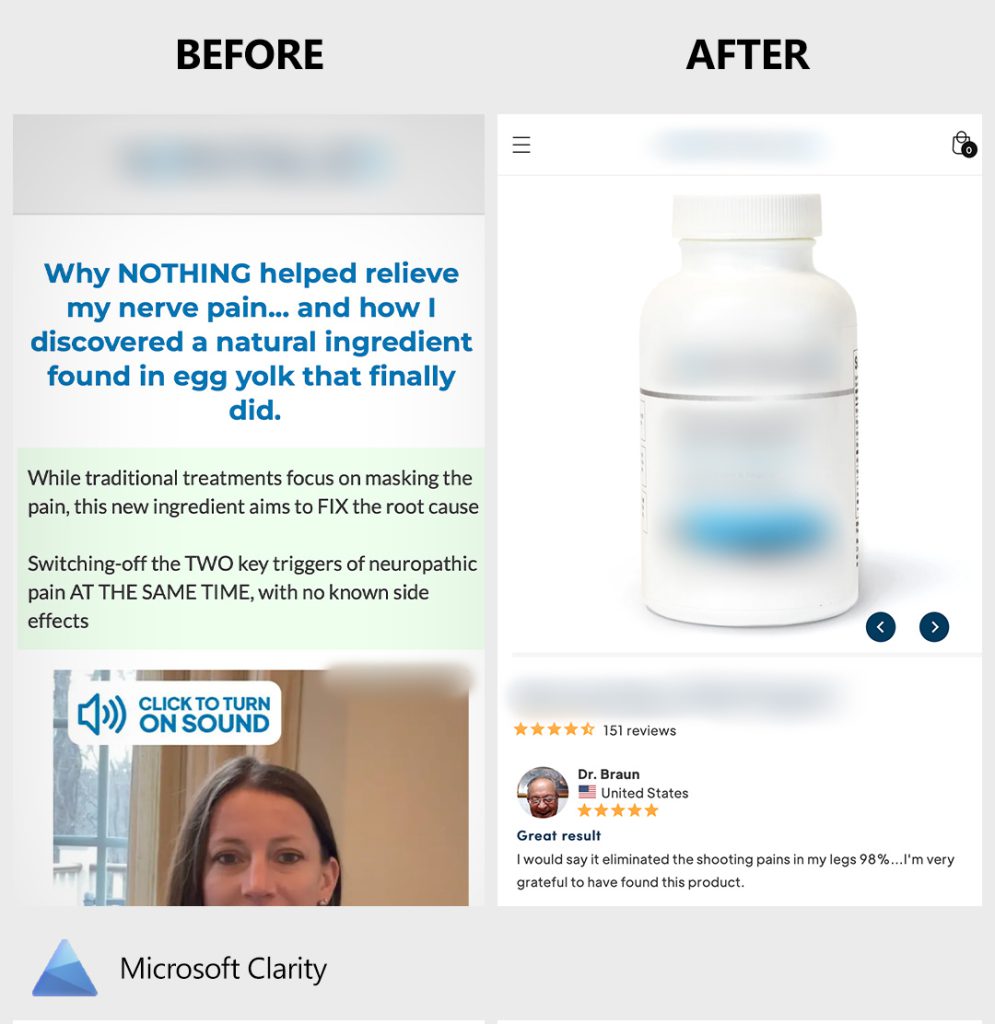 Here's how the new landing page is different than the Shopify page:
No longer showing the product at the top of the page, but tell the story of the co-founder of the company and how the product was created.
Next walk through the ingredients and research.
Followed by social proof.
Finally showing available bundles.
This approach proved to convert better than the Shopify product page, allowing the client to be profitable with paid advertising.
Looking at the data before they started working with the brand and what the numbers were beforehand and what they are now, the biggest changes were in conversion rate and AOV (average order value).
They saw conversion rate increase from 1.13% to 1.9% and AOV go from $115 to $140.
Without the incorporation of Microsoft Clarity into their business approach with clients, B Interactive would have missed out on key behavior analytics information and opportunities to improve business objectives.
---
Love using Clarity? Share your story with us!