How ufurnish.com used session recordings to boost website experience and decrease marketing costs by 20%.

What is ufurnish.com?
ufurnish.com is the furniture and furnishings website revolutionizing how consumers search and compare products for their homes. Launched in 2021, ufurnish.com brings together 110+ high-street retailers and smaller independents in one place, giving consumers the confidence that they've found the perfect item.
Their consumers are home lovers who visit the platform to search and compare home furniture and furnishing products across the market. They regularly browse to get ideas, compare their favorite products on a personal board, get informed with practical tips, or buy items for their home.
ufurnish.com's mission is to be the first-choice furniture and furnishings search and discovery platform.
Inderpaul (pictured below) has worked in various paid media and martech roles for over ten years agency and brand side across many verticals. He is now applying that experience as Head of Acquisition & Performance Marketing for ufurnish.com whose vision is to be the world's largest search and discovery website for home furniture and furnishings.
The Challenge
As a data-driven organization, ufurnish.com prides itself on its ability to track and measure the performance of their website's traffic channels using Google Analytics. However, despite their expertise, they were baffled by the 'why' behind some numbers.
Why were some channels underperforming regarding time on site and page depth? And why were certain category pages experiencing higher bounce rates than others?
While they had their theories, they lacked real validation beyond costly testing and the occasional misstep.
They knew we needed to gain a deeper understanding of these metrics if they were to optimize the traffic and user experience on their site. So, they set their sights on improving the average time spent and pages viewed on our website in 2023, using our newfound insights to achieve our goals efficiently and effectively.
The Solution
Microsoft Clarity proved to be a game-changer for ufurnish.com. With its heatmaps and session recordings, they could finally see what their users were doing on their website. Trends in user behavior were identified, and issues such as poor targeting or poor user experience (UX) were isolated, providing valuable insights into the effectiveness of their performance channels. The seamless integration of Clarity with Google Analytics allowed them to analyze the same traffic segments used to report performance and channel traffic, giving them a clear and comprehensive picture of their users.
Armed with the newfound visibility provided by Microsoft Clarity, ufurnish.com was able to fine-tune its targeting efforts and ensure that users found what they needed on its website. Through Clarity's insights, they identified pain points in their user experience, such as product pages being a poorer experience for discovery compared to category pages, which was an assumption they had. Clarity helped them understand the reasons behind strong metrics like time on site and page depth for product pages, giving them the confidence to deliver traffic to product and category pages. In contrast, their main focus had previously been only on category pages.
Results
As a result of the insights gained from Microsoft Clarity, ufurnish.com confidently delivered traffic to both product and category pages, resulting in a 17% improvement in average time spent on their site and a 12.5% increase in the average number of pages viewed. These optimizations enabled ufurnish.com to improve its conversion points more effectively.
Utilizing the data-driven insights from Microsoft Clarity, ufurnish.com identified and cut out wasted marketing spend, improving the efficiency of their cost per visitor by 20%. These informed decisions and effective allocation of marketing resources resulted in improved conversion rates and cost savings in their marketing efforts.
With the combination of Microsoft Clarity insights and strategic optimizations, ufurnish.com could confidently drive traffic to their website, resulting in increased user engagement, improved conversion rates, and cost savings in its marketing efforts.

Learnings
Utilizing Microsoft Clarity yielded invaluable insights that significantly impacted their digital product roadmap, advertising strategy, and website experience. Through Clarity, they discovered that their pop-up banner for newsletter sign-ups was causing frustration among users, resulting in a high number of clicks and rage clicks. To address this issue and reduce initial friction, the company modified the timing of the pop-up only to appear after a user had visited more than one page. These insights from Clarity allowed the company to make data-driven decisions and implement changes to improve the user experience on their website, ultimately enhancing their digital product offerings and advertising strategy.
Another key learning was the lack of user engagement with filters on category pages. By analyzing user behaviors, they identified that many users struggled to find the specific filter they sought. In response, they changed some of the larger category filters and introduced new filtering options to encourage users to interact with them more.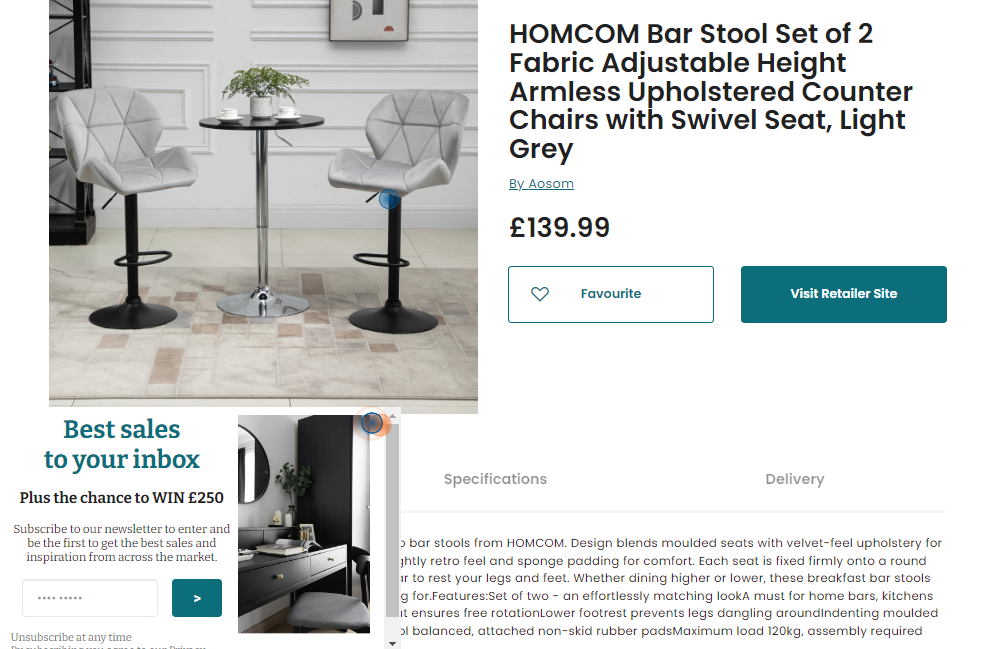 Interestingly, the previous assumption about landing users on product pages was flawed. They had assumed that users were not able to discover new products when landing on these pages. However, with Clarity, they were able to see that many users engaged with the recommendation modules, such as similar products, resulting in increased engagement with multiple pages on the site. These insights have enabled them to refine their digital strategy and make data-driven decisions to optimize the user experience and drive business growth.
"With Clarity's powerful features, we were able to gain invaluable insights into our users' behaviour and preferences, which helped us make informed decisions to optimise our digital strategy. The recordings feature gave us visibility into how our users were interacting with our website, enabling us to improve landing page experiences and tailor our advertising campaigns to specific target audiences"

-Inderpaul , Head of Acquisition & Performance Marketing