Microsoft Clarity has received a fresh makeover, but it's not just about the stylish new appearance. It's a functional and visually pleasing enhancement to your workspace, designed with a focus on usability and coherence. So, what's the buzz all about? Our aim is to make behavioral analytics accessible to everyone, and when we say everyone, we mean it. We're democratizing data analytics, offering a free, user-friendly, and enjoyable experience for all.
Don't worry, though – we're still the same Clarity you know and love. We've just made it even better! Now, let's look at what we have in store for you!
The most recognizable change you'll see is our new design, a result of our creative team's thoughtful and dedicated work. The UX design is filled with cool and cozy color tones that spark delight, innovation, and meaningfulness, evoking the three main pillars we strive to hit with every feature, fix, and futuristic concept we bring to life.
BEFORE
AFTER
Microsoft Clarity's greatest strengths is its simplicity. From start to finish everything about Clarity was built to be simple yet extremely powerful to eliminate the need to hire a developer, data analyst, or a UX designer to get amazing results. We guide you through the setup and implementation process, offer easily comprehensible charts and visualizations, and provide users with heatmaps and session recordings to optimize your website or app design.
Time is precious. At Clarity, our mission is to enhance efficiency and accuracy. That's why we've integrated automatic segments, advanced filters, and Microsoft's AI Copilot into our platform. These features significantly reduce the time it takes to analyze your data, providing you with actionable results quickly.
The modern design gives us the flexibility to match our experimental mindset and try radical features to push the boundary for behavioral analytics. With the addition of Copilot within Microsoft Clarity we have so many innovative features in the pipeline. The future of behavioral analytics is changing every day, and we intend to be the pioneers of this space.
But don't worry, we didn't just redesign Clarity, we made improvements as well! Let's take a quick look at a couple of them:
Watchlist
Keep track of what you care about on your website. With Watchlist you'll be able to do just that. Track segments, custom tags, and labels with this latest feature.
Expanded Metrics
We had a lot of requests for this improvement, as promised, here it is! Now, easily toggle between referrals, channel, campaign, and source to get a granular look into your traffic.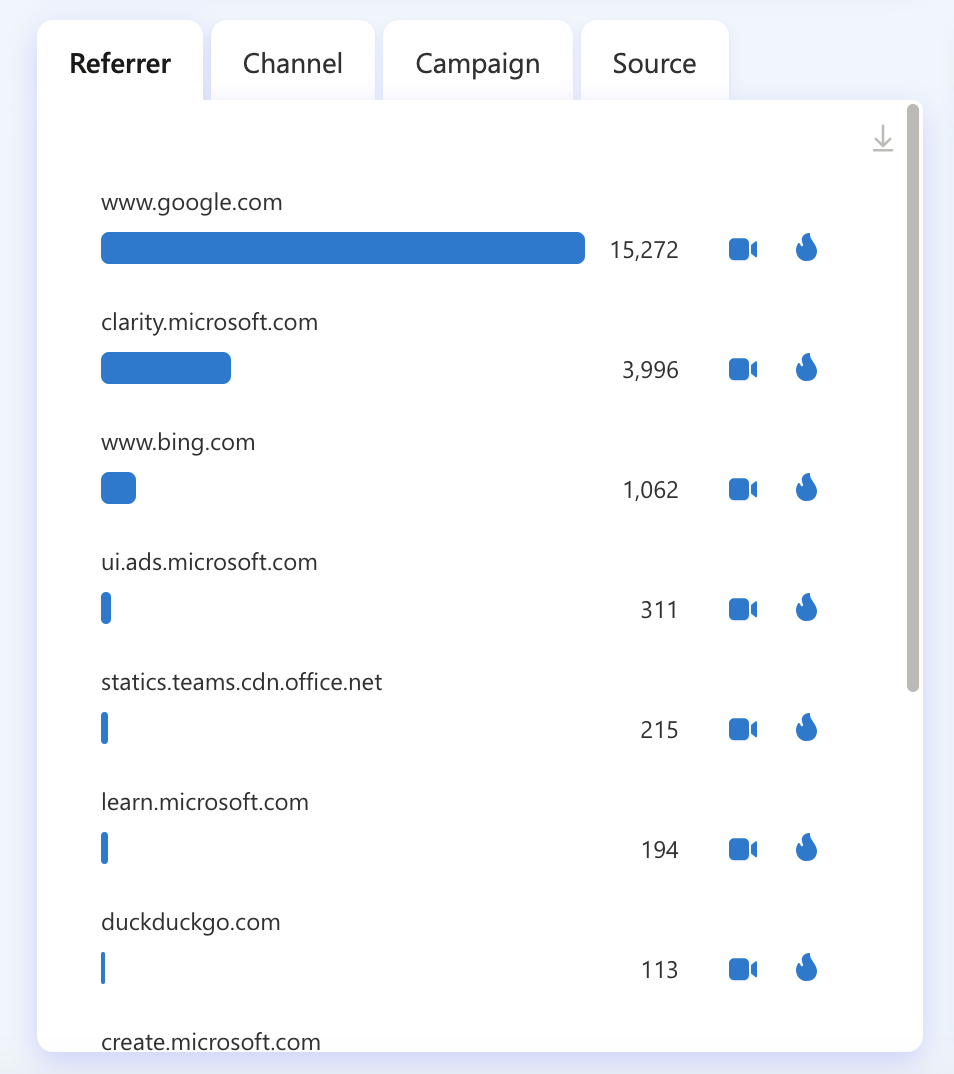 There are a few more improvements that have been launched with our redesign, if you want to learn about them all, click here!
We have always been about creating a delightful experience for our users and we intend on keeping it that way forever. If you have been with Clarity since day one, then you have seen a ton of new features such as Clarity live extension, Clarity for Android SDK, Copilot in Microsoft Clarity, and so much more released on a regular basis. We listen to our users' wants and needs through feedback on our social channels, and we can personally tell you it fuels our team to create the best behavioral analytics tool there is to offer.