In today's fast-paced digital world, understanding your website's reach is crucial. For those who rely on real-time data to make informed decisions, we have exciting news for you. The much-anticipated "Live Users" feature, which was previously exclusive to desktop users, is now available on mobile!
User Information on Mobile
This is our new mobile feature that allows you to see detailed user information on your website. We're excited to tell you what exactly you can do with this below:
See Live Users: Get a real-time count of how many users are currently browsing your website. This feature is invaluable for marketers, website owners, and businesses who want to gauge their site's immediate impact.
View Distinct Users: Understand the unique reach of your website by seeing the number of distinct users.
List All Users by Sessions: For those who love diving deep into analytics, you can now view a list of all users, sorted by the number of sessions they've had on your site.
Why is Live User Count Important?
The live user count is more than just a number. It's a pulse check on your website's activity. Whether you've just launched a new marketing campaign, released a new product, or published a viral blog post, the live user count lets you see the immediate response and engagement from your audience.
With Clarity, you can also watch Live Recordings on your desktop to make sure everything is operating as it should. This is a great tool to use for product launches to make sure there are no bugs or pain points for your customers.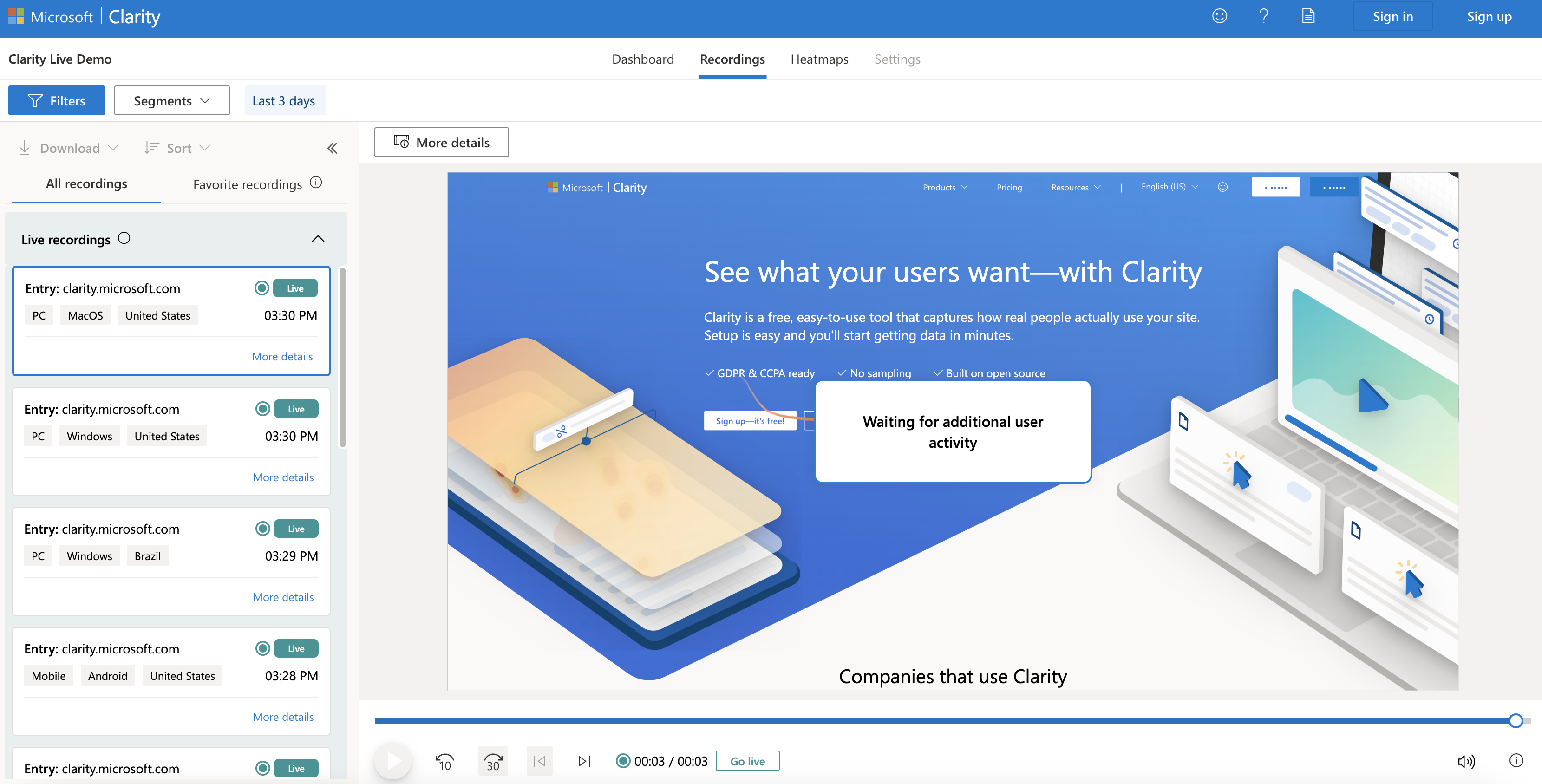 Clarity Live Users: A Reliable Alternative for GA4 Users
For those familiar with Google Analytics 4 (GA4) and its real-time reports, you might have encountered some challenges or inconsistencies. Clarity's "Live Users" offers a robust and reliable alternative. It's designed to deliver precise real-time data within a minute, whereas GA4 updates every thirty minutes, guaranteeing that you stay informed about your website's performance without any delay.
 If you're already a GA4 user, we have a simple integration with Google Analytics to have your data show up in inside your Microsoft Clarity dashboard.
The introduction of "Live Users" on mobile is a testament to our mission to be your go-to tool for behavioral analytics. This is a game changer for those who rely on real-time data. Whether you're on the go or away from your desktop, you can now have the power of live analytics right at your fingertips. If you don't have Microsoft Clarity on your website or app, it's time to install and go live now!